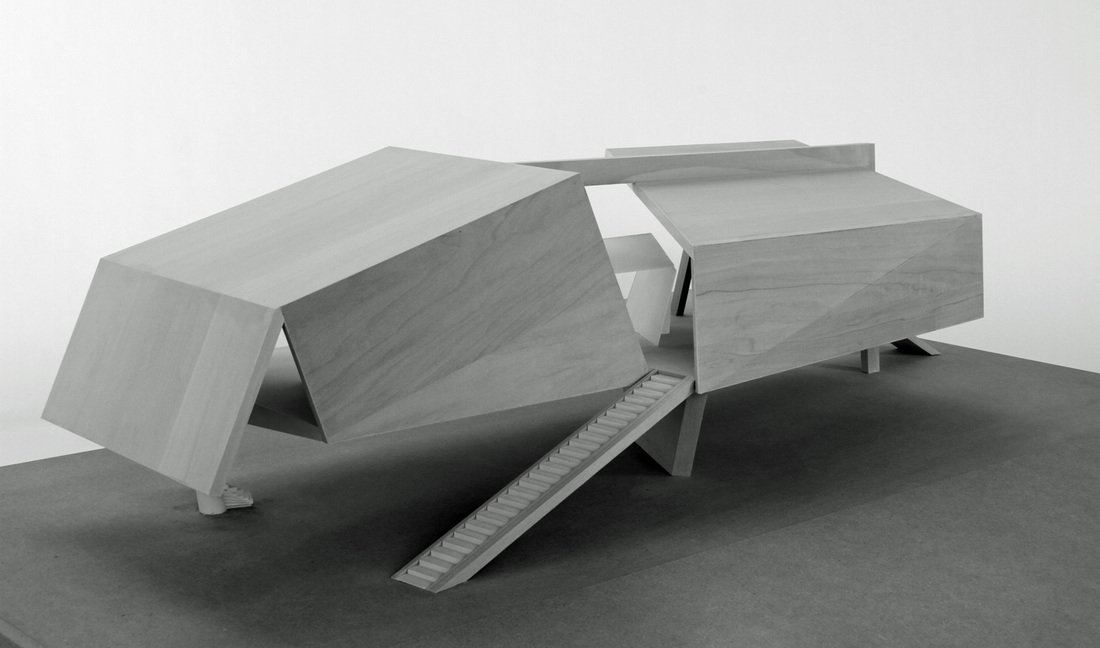 Theoretical Houses 2012 to 2015
All of the designs published here work with a historic tradition of elevating the primary floor of the house to the second level, and a modern tradition of supporting the elevated house on a grid of columns, creating a contained open space at ground level. The aim of these theoretical houses is to use an absolute minimum of supports, in order to float the body of the house over a space that is as free and open as possible. To accomplish this some of the houses are inserted into a single, large mono-truss, using stair planes or service walls for additional bracing. Others use a loose arrangement of a few supporting planes combined with deep beams, and one employs two trusses intersecting with a large floor-through plane.

A prevailing theme in the houses is entry. Either the house is sliced or pried open to admit a stair or stepped ramp, or a floor plane containing a stair is folded down. By incorporating stairs into bracing planes, or in one case, by wrapping a column with a stair, the building touches the ground in even fewer locations, adding to the openness of the ground space.

Roof and wall planes are sectioned at various angles to provide open terraces, and to separate the house into public and private zones. The connection between the two zones in some cases is provided by overlapping the roof planes, and in others by a separate connecting link of glass planes. Often the cuts serve to work in tension against the bridge structure of the house.

All employ an open floor plan with rooms defined by arrangements of skewed and normal planes that are opaque or translucent. Private spaces and storage are enclosed in volumes.

The houses are all designed for the same rural site - at the edge of a large meadow flanked on the west by a woods rising on a steep incline, and on the east by a valley and forested ridges running parallel in the north-south direction. There are views across, up and down the valley. The long axis of the structure in all cases runs parallel to the valley, with the more closed side facing the woods. There is a large studio building on the site which has the same orientation, and a smaller cabin which is the building site. There is a 1500 foot access drive approaching from the south (see Project Site above). Local influences include bank barns and covered bridges.

More drawings and details will be included later, but in the meantime please feel free to browse the images presented on the following pages.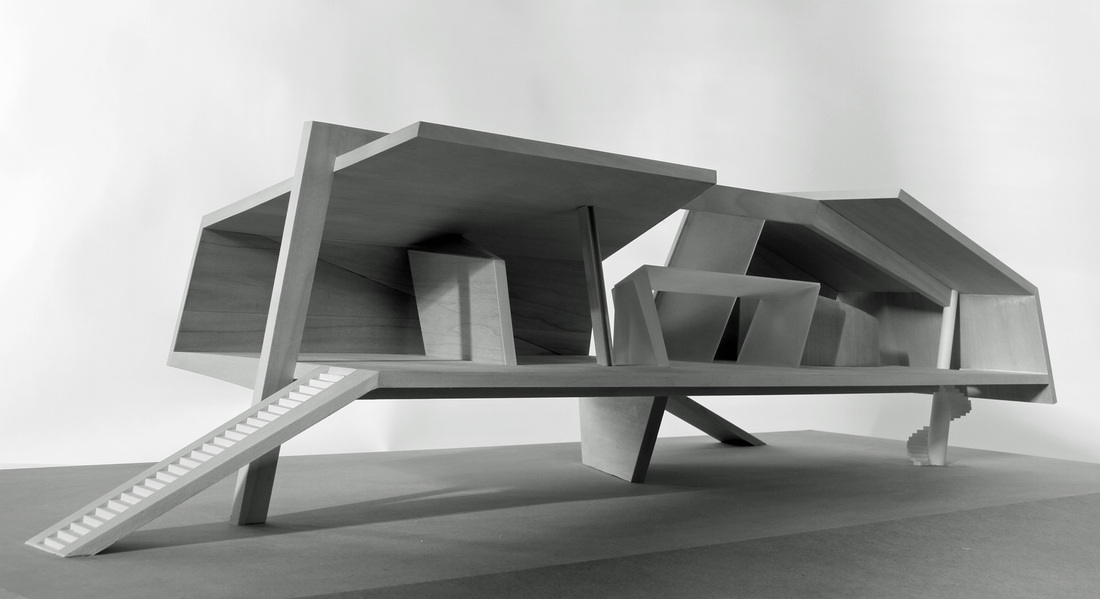 abl Studio
Roger Williams
Piermont, New York
Delhi, New York
roger.ablstudio@gmail.com